You can even access files on any PC in your home network from anywhere using just an Internet browser. Plus, it includes wireless network repair and protection features to keep you connected and secure.
Key Features
INSTANTLY SET UP YOUR NETWORK
Add a Device Wizard
Easily add computers and devices to your network by simply clicking "Add."
Wireless Connection Manager
Automatically connect to your preferred wireless or broadband network.
Internet Connection Repair
Quickly troubleshoot, pinpoint and repair Internet connection problems. The repair wizard automatically detects connection problems and attempts to fix them for you - keeping your computers online and network operating at its optimal performance level.
EASILY MANAGE YOUR NETWORK
Network Tasks
Easily perform all networking tasks from a centralized dashboard.
Comprehensive Network Map
View an illustrated map of every device on your network. See each device, its current status and information including suggested tasks and security alerts.
Personalize Network Advice
Get pertinent networking recommendations and tips through our Network Magic Advisor.

SHARE MUSIC, PHOTOS, AND PRINTERS
Automatic Printer Sharing
Print from any computer to any printer in your home, with the click of a mouse.
Easy File Sharing
Share files, music, and photos between all of your computers quickly and easily. Simply click "share" and you can access your favorite songs or documents from any computer.
Support for multiple operating systems
Includes Windows and Mac. When you purchase the Network Magic for Mac Add-on, you can easily share printers and share files across all of your computers.
Firewall setting management
Automatically configure firewalls to protect your printers and file sharing.

KEEP YOUR FILES AND NETWORK PROTECTED
Wireless and Broadband Protection
Keep you and your personal information safe and secure at home and work. Network Magic alerts you to intruders to keep them off your network. Network Lock* allows you to turn on MAC address filtering to prevent others from connecting to your wireless network. Network Magic will also help you easily manage your wireless encryption (WEP or WPA)**.
* Network Lock will work on routers that include the HNAP management protocol as well as routers listed here.
** Wireless encryption is managable in Network Magic when using routers that include the HNAP management protocol as well as some non-HNAP routers
Network Health and Security Alerts
Keep your network healthy and secure. Network Magic makes sure your firewall and antivirus security measures are doing their job by scanning your network, alerting you to issues and helping you resolve them.
Network History
A real-time record documenting activity on your network; including the devices and computers added and removed from your network, Internet connection status,
Easy-to-Use Interface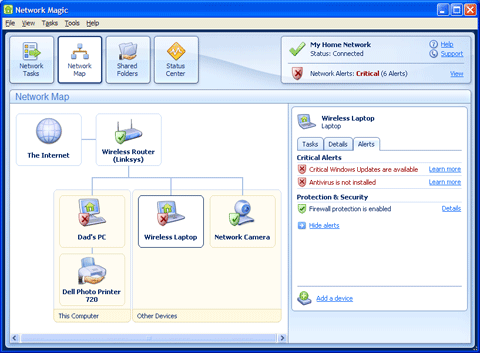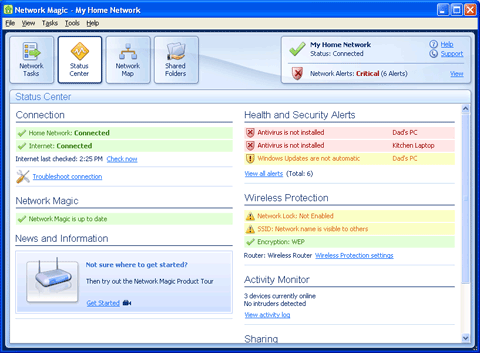 Awards



"Even when every element of your home network seems to have been set up correctly, there's invariably a baffling snag. Network Magic helps you configure your network with minimal hassle."
— PC World May 31, 2006



"Network Magic is worth the price for the network map alone. It makes wireless networking a breeze, instead of a complex chore."
— LAPTOP Magazine July 18, 2006


System Requirements:
Operating system: Microsoft® Windows® Vista™ product line, XP Home Service Pack 1 or 2, XP Pro Service Pack 1 or 2, XP Tablet PC, XP Media Center 2005, XP X64 edition, 2000 Pro SP3 or later, Millennium Edition (ME), Windows 98SE, MAC® OSX